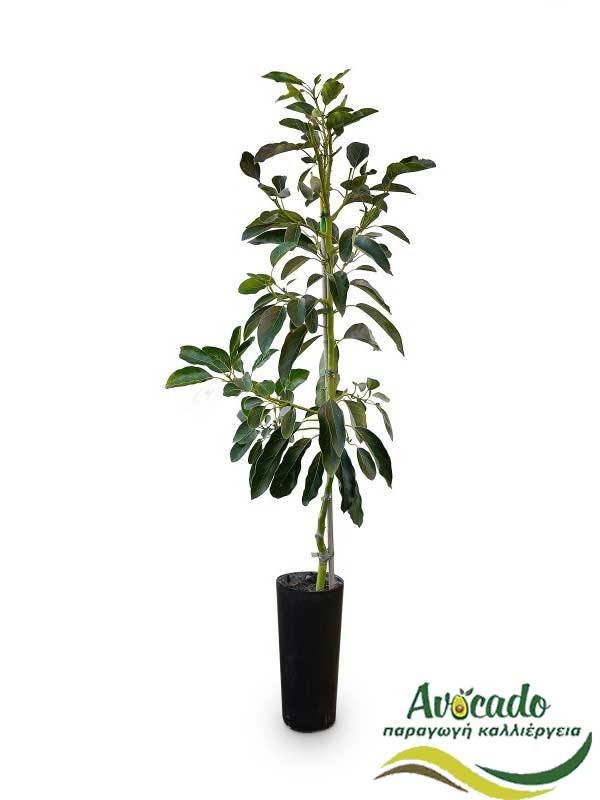 Avocado Rootstocks Seed clonal. It comes from a Mex/an seedling that was selected in the 50's by Dr. G. Zentmyer, but it was not marketed until mid-70s. It was the first variety of rootstock available against root rot caused by Phytophthora cinnamomi and is still recommended as rootstock in California and South Africa for its productivity.
This rootstock is vigorous, with good frost tolerance. Its tolerance to Phytophthora cinnamomi is moderate but is more tolerant to Phytophthora citricola instead. Produce good fruit size early in the season. Tend to stay green in cool soils during winter when trees are more susceptible to chlorosis. Moreover, it induces a less alternate bearing than other rootstocks. It is not recommended for poor aerated soil, salinity problems or replanting.
Dusa®
It's a Me. rootstock. Hass avocado grafted on Dusa is more productive than on Duke 7. It has a high tolerance to salinity and root rot caused by Phytophthora cinnamomi. It is a new rootstock that is not yet widespread in Spain, however, is the most commonly used in California. This rootstock is suitable for replanting.
Toro Canyon
Mexi. rootstock comes from a survivor of an area attacked by Phytophthora cinnamomi. It has high tolerance to cold and root rot caused by Phytophthora cinnamomi. It is very tolerant to Phytophthora canker or collar rot caused by Phytophthora citricola. Its moderate canopy size is a very efficient volume of fruit production. It is more tolerant to salinity than other Mexic. seedling rootstock.
Clonal rootstocks
D-7
Toro Canyon
Dusa
Borchard
Productivity in normal soil
4
3
4
4
Productivity in poorly ventilated soil
3
3,5
4
2
Tree size in normal soil
5
4
5
5
Tree size in poorly ventilated soil
2
3
4
0,5
Tolerance to Phytophthora Cinnamomi
3
3,5
5
0,5
Tolerance to Phytophthora Citrícola
4
5
?
3
Salt tolerance
3
3,5
4
4,5
Tolerance to Lime-Induced Chlorisis
4
3
?
5
Frost Tolerance
4,5
4,5
4
4,5
Horticultural Race
Mexican
Mexican
Mex X Guat
Mexican
Parentage
Duke
Escape Seedling
Escape Seedling
Escape Seedling
Geographic Origin
Riverside, California
Carpinteria, California
Sudafrica
Oxnard, California
Measured on a scale of values: 0 = Poor, 5 = Best
Lula
Avocado Rootstocks Seed clonal. Seedling rootstock, a hybrid between West Indian and Guatemalan races, highly tolerant to salinity due to its West Indian parentage, very vigorous and compatible with commercial fruit varieties. It tolerates limestone well. It is not recommended for cold climates, heavy soils or soils infected with Phytophthora cinnamomi.
Walter Hole
This Mex. rootstock is obtained directly by seeds. It is very cold tolerant and induces moderate vigor on the fruit variety. It has good affinity with commercial varieties. Do not use in replanting or heavy soils.
Brokaw 05
Mexic. race rootstock. It is a selection of Brokaw España very adapted to the Mediterranean climate. Descendant of Topa Topa very tolerant to cold and produces very homogeneous plantations.
G-6
From Mex.-Guatemalan hybrid rootstock. Some seedlings have certain tolerance to Phytophthora cinnamomi. It is somewhat less tolerant to cold than purely Mexic. rootstock. G-6 is usually propagated using seeds. It is suitable for replanting.
Seedling Rootstocks
Walter Hole
G-6
Topa Topa
Productivity in normal soil
3,5
3
3
Productivity in poorly ventilated soil
1
2,5
1
Tree size in normal soil
4
5
5
Tree size in poorly ventilated soil
0,5
1
0,5
Tolerance to Phytophthora Cinnamomi
0
2
0
Tolerance to Phytophthora citricola
3
3
3
Salt tolerance
2
2
2
Tolerance to Lime-Induced Chlorisis
2
2
2
Frost Tolerance
4,5
4,5
4,5
Horticultural Race
Mexican
Mexican
Mexican
Geographic Origin
Mexico
Guatemala
Mexico
Measured on a scale of values: 0 = Poor, 5 = Best