Variety avocado Greece/Crete Pinkerton:
Parentage: Hybrid
Peels: Yes
Seed Size: Small
Skin Texture: Rough-pebbly
Blossom Type: A
Fruit Shape: Pyriform
Skin Color Unripe: Green
Color Ripe: Green
Skin Thickness: Medium
Average Fruit Weight oz: 9 to 18
%Ratio Seed/Skin/Flesh: 10:13:77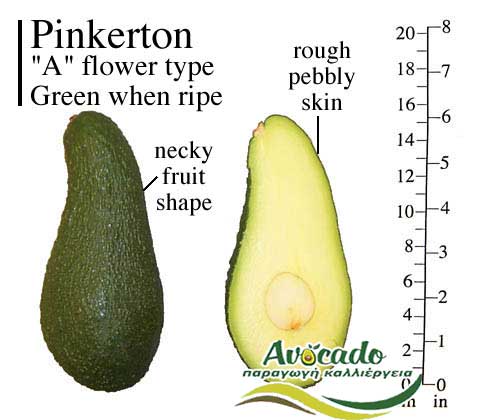 Variety Avocado Pinkerton Greece/Crete
Variety avocado Greece/Crete Pinkerton. Additional Information:
Commercial variety. Harvest begins in January in some commercial areas. High oil content. Medium slightly spreading tree. Hardy to 30 degrees. For early production near the coast and inland. Green fruit with medium pebbly skin. Fruit size 14 to 16 ounces. Opens in November – April. high performance, avocado with good quality. The tree is upright and compact. Fruit size 10 to 16 ounces. Avocado oil is an excellent source of "good" fats, which have beneficial effects in inflammation. The most abundant fatty acid is oleic acid, which is also the main component of the oil. Oleic acid has been associated with reduced inflammation and may have beneficial effects in cancer. Planting: 6 x 6 m. interim accommodation for 15/17 years and certainly 8,60 x 8,60 m. ;
Variety avocado Greece/Crete Pinkerton. General information:
These trees, measured from the top of the root is 24-36
inches "tall, with a trunk diameter of between 1 / 4-1 / 2 inches. Eventually, the avocado trees will be happier and more productive when planted in the ground. Such as citrus, avocado trees appreciate well aerated soils that retain moisture and also well-drained. Provide full sun, regular supply and good drainage to keep the tree happy and productive. Within a month of your tradition suggest you go to a larger container (10 "-12"). Or directly planted in ground. Fruit Pinkerton has during ripening and post harvest similar flavor characteristics to those of Hass.