Variety Avocado Greece/Crete Duke7, producer prices, Avocado Duke general information: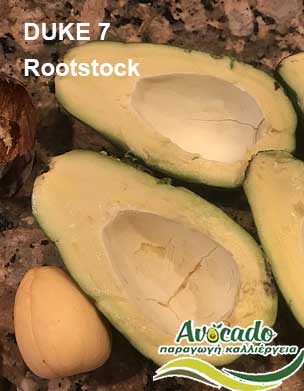 Tree high strong and productive, very resistant to cold winds and the root rot fungus. Matures its fruits from September to November.O fruit is small to medium size (200-300 gr.), Piriform with bark almost thin, smooth and green. Semen is medium sized. The taste of the flesh is good. Used to rootstock to a limited extent. Avocado 7 Duke of Crete, Chania, producer prices, Avocado. Additional information: Popular in Australia. The production is very low in California.
Variety Avocado Greece/Crete Duke7. Avocados can be eaten raw, but also commonly used in food such as guacamole. There are many different kinds of avocados, which vary in color, size and shape. Avocados are usually pear round and come in many different shades of green. Ranging from pale green to almost black when fully ripe. Is Fiber; A half avocado provides 4.5 grams of fiber. Which is very high. Dietary fiber is an important dietary component with many health benefits. Not everyone is sensitive to FODMAP. But can cause unpleasant symptoms of the digestive system in people with irritable bowel syndrome (IBS). Avocados contain a Therefore lot of fiber and very little sugar . Nutritionists argue strongly beneficial benefits of avocados in man!